Travel outdoor equipment Survival kit survival kit multifunctional field first kit SOS emergency supplies 
Features
LIGHTWEIGHT – The size of survival can be very light, will not feel heavy or occupy space. A small black waterproof box specially prepared in the pocket, bag, car, drawer, can be very strong, you can safely put all kinds of survival gear tools inside, and then take it out when necessary, Will never let you down.
COOL GIFT – Everyone is likely to encounter some urgent situations. The Survival Kit is a must-have tool in your life. Whether you are camping, hiking, adventurous, living or trapped in a car, you can use it in an emergency. A perfect gift for you who are adventurous. You can also exercise the courage of a child. You can prepare a few more at home and in the car.
MULTI-FUNCTIONAL – Survival kits camping portable multi-tool box outdoor flashlight set tools. Car first aid kit, camping first aid kit, outdoor multi-purpose tool box, ready to go, is your little friend with peace of mind. The survival kits of survival kits are versatile, and there are dozens of functions in a few simple tools to meet the diverse needs of outdoor survival.
11 in 1 
1.Upgrade compass
2.Unique Saber card
3.Firersteins fire starter
4.Water bottle clip
5.Emergency survival pins
6. Tactical flashlight
7. Military knife
8. PIPE
9. Mini light
10.Emergency Blanket
11. Wire saw
12.Multifunctional Survival Bracelet
LAST: Waterproof and shockproof case (all survival devices are packed in a black box)
Dimensions: 4.1 x 1.8 x 6.3 inches
weighs: 0.98 pounds
13in 1
1.Upgrade Compass: 360-degree rotating bezel for easy navigation and orienteering, compass glows in the dark, making it easy to read in any weather.
2.Credit Card Knife: Credit card size, easy to fit in your wallet, bag. [11 functions] can opener, bottle opener, 4-digit key, 2-digit key, butterfly wrench, directional wrench, screwdriver, knife blade, saw blade, ruler, key chain hole.
3.Wire Saw: used for cutting wood (not more than 3 inches), plastic, bone, rubber and soft metal.
4. Water Bottle Clip: simple and solid way to carry water bottles.
5. Emergency Blanket: Provides convenient easy protection in all cold or warm weather conditions.
6. Flashlight: with zoom design, heavy, compact flashlights, zoom for an intense beam or for a wider illumination. 3 light modes like high / low / strobe. With its ultra-bright LED light and the ability to run only a single AA battery for hours (NOT INCLUDED).
7. Meteor knife: Fire auxiliary tool
8.Scraper: made of magnesium and iron, 5000-12000 times flint fire. Flint / Bottle Opener / Scraper 3 functions.
9.Upgrade Survival Knife: high quality survival knife, ideal for any use.
10.Tactical Pen: made of tungsten steel for superior strength and portability, breaking a window / glass, escape in an emergency situation
11. Whistle: two holes, the sound is louder. the rescue team can let you find faster.
12.Mini Light: small, practical can also be a key ring.
13.Classic durable alloy carbine. Can create more application scenarios.
14.Black Waterproof Box (all survival tools are packed in black box,it is not waterproof)
40 in 1
40-In-1 Tactical Molle Pouch
1 X Tactical Molle Pouch / Phone Holster (7" x 4.5" x 4")
1 X Paracord Bracelet
1 X Tactical Knife
1 X Multi-Function Wallet Saber Card
1 X 3-Mode Flashlight- Flashlight has High / Low / Strobe Light Modes and can adjust the focal length. (1 AA Battery NOT INCLUDED)
1 X Multi-Function Pliers: Needle nose pliers, wire cutters, knife, saw, cross and slot screwdrivers, bottle opener, and a storage bag.
1 X Tactical Pen: Pen can be used as a Safety Glass Hammer;
1 X Luminous Compass
1 X Two Tune High Pitch Whistle: 120 dB noise level which can easily draw people's attention.
1 X Flint and scraper
1 X Thermal Blanket
First Aid Supplies
5 X Medium Size Bandage
3 X Butterfly Bandage
3 X Knuckle Bandage
6 X First-Aid Prep Pad
B Flashlight
SUPER Bright 2000 Lumen (10,000 Lux) Tactical Military LED Flashlight With Zoom + Flashing Strobe Mode + SOS Mode!
This Flashlight is EXACTLY The Same as The More Expensive 2,000 Lumen Military Flashlights, So WHY PAY MORE When You Don't Have to?
The Provides a Beam of Light Bright Enough to Blind a Bear, Fight Off an Attacker, or Light Your Way Through Any Type of Emergency Situation!
This military-grade 10,000 Lux LED flashlight is made out of virtually indestructible aircraft aluminum, and it features the ultra-powerful 2,000 Lumen (10,000 Lux) Cree XM-L T6 Bulb. This Light Can Be Seen From Miles Away, and it is powerful enough to turn a pitch-black night into day!
SOS mode can be activated to signal for help, and the Strobe mode can temporarily disorient and blind a threat without having to use deadly force.
Features an aggressive-cut bevel, which allows the actual body of the flashlight to be used as a striking weapon.
This Tactical Flashlight is Perfect For Self Defense!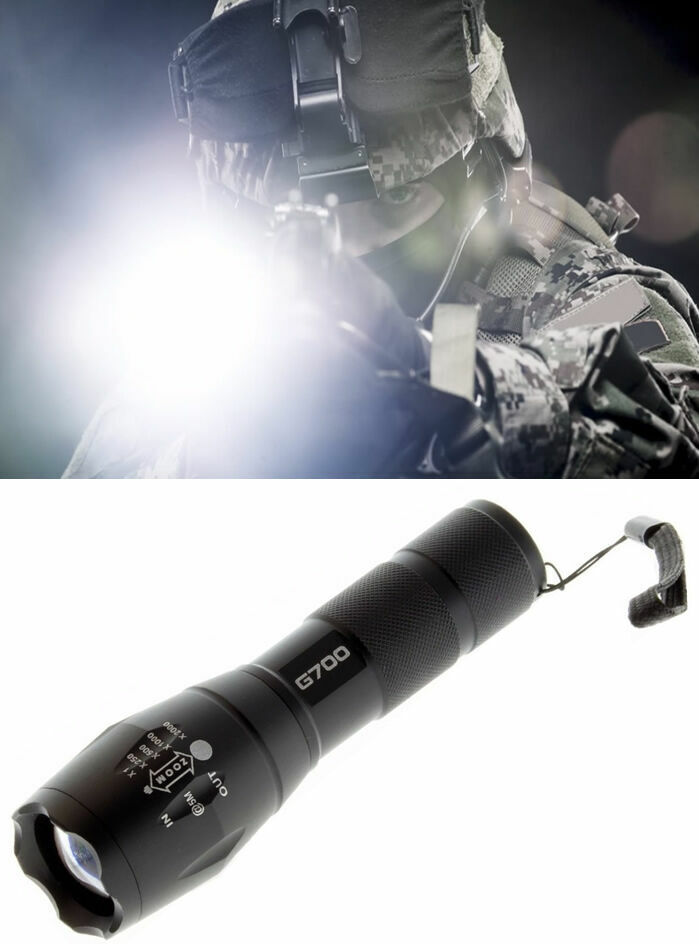 Features And Specifications:
Super Bright 2000 Lumen / 10,000 Lux Military LED Flashlight
Fully Zoomable / Adjustable Focus (up to 2000x Zoom)
5 Modes of Operation (3 Brightness Levels, Flashing Strobe Mode, and SOS Mode)
Military Grade Flashlight
Advanced Military Technology Inside!
You Can Easily Blind and Disorientate an Attacker with this Flashlight
Features a "Striking Bezel", which can be used for Breaking Glass or Self Defense
Made Out of Virtually Indestructible Aircraft Aluminum
Advanced LED Bulb
Waterproof
Small Enough to Fit in Your Pocket!
Powered By 3 AAA Batteries (NOT INCLUDED)
Package List:
1/2/4/6Pcs T6 Flashlights (Battery is not included)
40X60 monocular
Features:
【40X60 HIGH POWER MAGNIFICATION】Real HD 10x magnification and 42mm object lens diameter monocular, provides a clearly and bright image, enjoy the beauty of the distance. Have the best view in your outdoor adventures, just feel free to enjoy bird watching, hunting, hiking, camping, travelling, wildlife, scenery, etc.
【HIGH CONTRAST AND RESOLUTION IMAGES】 Latest optics technology, the HD monocular telescope equipped with BAK-4 prism and fully multi-coated lens, superior light transmission and brightness and the light transmittance reaches up to 99. 5%. Our monocular has low-light-level night vision, it could help you see things in low light (can't see anything in complete darkness), provide you a amazing viewing experience.
【SINGLE HAND FOCUS, WATERPROOF & FOG PROOF】 Ergonomic design helps you focus on your target quickly and accurately with one hand. And the durable rubber armor with stripes makes it comfortable for use, non-slip grip, and durable external protection from your hand. IPX7 Nitrogen-Filled Waterproof with a fog resistant coating and O-ring sealed optics prevent moisture, dust and debris to keep it clear all the time.
【AMAZING CRYSTAL CLEAR VIEW】 For Dual focus design, high light transmission, the focus spotting scope can provide a brighter and higher-contrast images to you. The eyecup can be twisted up to deeply focus the view for yourself, and then adjust the focus adjustment and zoom adjustment until the view become clear.
【COMPATIBLE】Along with convenient phone adapter, our powerful monocular is compatible with iphone Xs/Max,iphone Xr,iphone X, 8/8plus, 7/7plus, 6/6plus, 5/ 5s, Samsung GALAXY S8/7/6, Edge , Note, Google Pixels, LG, HTC, Sony, and almost all other smart phones on the market.
Note:
1. The eyes should keep a distance from the eyepieces, don't stick to the eyepiece, in order to prevent the eyes or eyelashes from blocking the line of sight, causing a black shadow in the eyepiece.
2. It will help you see things in low light, it doesn't help you see things in the dark.
3. Please allow 1-5mm measuring deviation due to manual measurement.
4. The telescope is fixed focus and the focal length cannot be adjusted. Please do not buy if you mind.
Specifications:
[Color]: Black
[Weight]: 315g
[Field of view]: 7°
[Magnification]: 10X
[Lens material]: BAK4
[Optical coating]: FMC
[Eyepiece diameter]: 22mm
[Distance of view]: 1500/9500m
[Objective lens diameter]: 42mm
[Size]: 15.5*4.5*5.5cm/6.1*1.8*2.2in
Package includes:
1* Telescope
1* Tripod
1* Phone Holder
2* Lens cap
1* Box
1* Manual
1* Storage Bag
1* Lens Cleaning Cloth