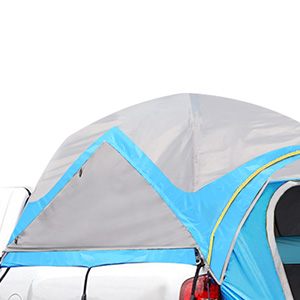 Waterproof Rainfly
The Rainfly will allow you to camp in extreme weather and quickly build or remove.
Removable Awning
The awning can be stored on the front door when not in use.
Fully Sealed Floor
The waterproof floor keeps you from getting wet and dirty and and allows you to sleep comfortably.
Design for Conveniency
Rear Access Window
Quickly access your truck's interior for storage and a connection to power outlets.
Lantern holder & Gauze Mesh
Use to place lights, small fans or other gear to create a more comfortable interior.
Storage Bag
There is 1 storage bag on both sides for convenient storage of sundries.
Easy to Use
Double Hole Pole Pockets
The more adjustable Pole Pockets with double holes make your installation easier and more suitable for your bed.
Color Coded Poles & Pole Pockets
The color of each pole and pocket corresponds to each other, allowing you to locate the pole quickly.
Storage Carry Bag
This bag allows you to pack all the parts in for easy storage and portability.
Item description
SPECIFICATION:
1. Size: 81″x 65″x 63″ for full size short bed 6.4′-6.7′
2. Weight:14lbs
3. Tent material: PU2000MM waterproof polyester
4. Floor material: PU4000MM Oxford polyester